Jannah Hotels & Resorts Joins the Jerusalem Dance Challenge Movement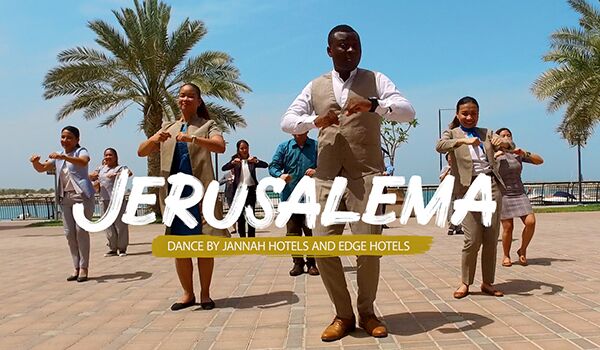 Dubai, United Arab Emirates, 04 May 2021: The Jannah Hotels & Resorts workforce has joined "The Jerusalema Dance Challenge" movement; a worldwide dance phenomenon that took off in February 2020 and continues to see health workers, construction workers, police officers in uniforms and flash mobs in different parts of the world participate in the challenge, while maintaining social distancing.
More than 40 Jannah Hotels & Resorts employees took part in the video, which went live on Tuesday, 4 May, and sees a range of departments including front office, guest relations, housekeeping, marketing, and culinary commit to the challenge, as well as cameos from general managers and Richard Haddad, CEO.
The video was filmed and directed in-house over the duration of five days and featured various hotels under the Jannah Hotels & Resorts group, including the recently opened EDGE Creekside Hotel and Jannah Marina Hotel Apartments in Dubai, Jannah Burj Al Sarab Hotel in Abu Dhabi and Jannah Hotel Apartment and Villas in Ras Al Khaimah.
The challenge has become globally popular since the COVID-19 caused lockdowns, it represents South Africa's 11 national languages to show support and help rebuild the community. Jannah Hotels & Resorts team took part in the challenge to remind the UAE and the world that today, each member of the society is key to rebuilding the community. The hospitality industry in the UAE has seen significant improvement and by working together, Jannah Hotels & Resorts team aim to achieve more and to spread hope and joy.
The Jerusalema Dance Challenge started with a group of six friends in Angola who made a video of themselves dancing to the Jerusalema song by Master KG ft. Nomcebo Zikode. The trending video quickly went viral as the #Jerusalemachallenge or #Jerusalemadancechallenge after similar videos surfaced from parts of Europe, North America and South America.
Watch the video here: https://youtu.be/z05ghkCVmcE
For more information, please visit www.jannah-hotels.com or call 800-JANNAH (526624).