Jannah Hotels & Resorts Announces Partnership with CULTI MILANO to Introduce Elevated Sensory Experiences for UAE Residents & Visitors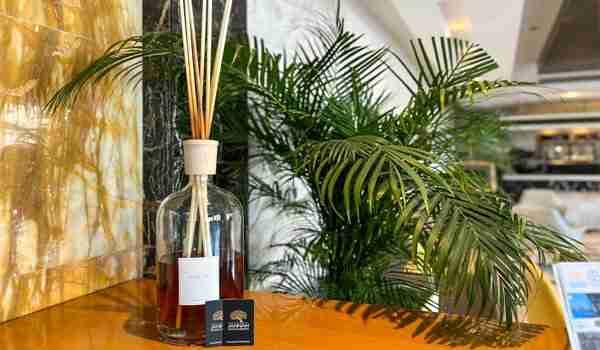 Dubai, United Arab Emirates; August 2022: Jannah Hotels & Resorts, UAE's leading hotel brand is pleased to announce a partnership with CULTI MILANO, global home fragrance maker synonymous with Italian quality and design, to elevate guest experiences with a unique sensory catalyst.
Founded in the spirit of the noble Bedouin hospitality, Jannah Hotels and Resorts specializes in affordable luxury for visitors and residents of the UAE. Their properties including 5-star Jannah Burj Al Sarab, Jannah Marina Hotel Apartments, Jannah Hotel Apartments and Villas – Ras Al Khaimah and EDGE Creekside Hotel, have introduced the Italian high-end fragrances to enhance each property's concept and ambience.
CULTI MILANO was founded in 1990 by eclectic interior designer, Alessandro Agrati who revolutionised the way in which people experience spaces and objects. He realized the strong appeal and impact that a perfume has on its environment and developed the link between the design world and the world of the senses.
Renowned as one of the pioneers of Rattan sticks that diffuse the perfume in the air, CULTI MILANO has changed the way perfume diffusion is used and perceived worldwide, developing its production in the perfumery segment to become the world's leading brand in research, fragrance development, and quality of materials.
Additionally, under the umbrella of Marchesani Holding, their fashion brand Filippo Marchesani brings invaluable expertise in fashion retail since 1954 with 4 stores and an e-commerce platform – www.filippomarchesani.com, offering more than 300 distinguished brands.
The opening of their new store "ELYSIUM" in 2021, is an artistic perfumery dedicated to niche perfumes and fragrance diffusers, candles, as well as high-end cosmetics from couture brands including Tom Ford, La Mer, Byredo, Diptyque, Teatro Fragranze Uniche Firenze, Signature by Sillage D'Orient, Kilian Paris and Insium.
Bringing a wealth of knowledge in perfumery and retail, owners of CULTI MILANO, Mr. Piero Marchesani and Mrs. Marchesani Barbara, are honoured to collaborate with the Jannah Hotels and Resorts and introduce this elegant concept to the hospitality segment in the UAE.
Each Jannah property will showcase the bespoke CULTI MILANO range of 4300 ml Home Diffusers that feature rich scents from Woody and Amber to Fresh and Floral notes.
Interweaving culture and style, this collaboration offers a completely new lifestyle concept to guests seeking sophisticated sensorial stimuli during their lavish stay at Jannah Hotels & Resorts.
"We are super excited to be partnering up with world renowned fragrance company CULTI MILANO and look forward to bringing the scents of this revolutionary brand to the UAE. It has been a pleasure selecting signature scents for each of our properties and can't wait for our guests to experience it during their stay at Jannah Hotels & Resorts" – Richard Haddad, CEO Jannah Hotels & Resorts.