The Best Hiking Trails in the UAE
Skyscrapers, water parks, beaches, and the desert are probably the first things that pop into your mind when you hear about the UAE. Although all these are parts of the UAE, most people overlook the amazing hiking trails. The desert landscape has beautiful mountains and dunes suitable for memorable hiking experiences. Wadis (valleys) are quite common in this region, and they are characterized by dry riverbeds.
What to Know Before Hiking in the UAE
Hiking trips are exciting, but you need tips and preparation for a memorable experience. There are many hiking trails in UAE that is why you need to have a guide and a plan to avoid getting lost.
Before leaving your hotel in UAE, or choosing a hiking trail, you ought to check your fitness capability. Do you have experience hiking and camping outdoors? Do you have any medical conditions that could hinder this activity? Answering these questions helps you to determine if you are ready for the trip.
The best months to visit are between November and April when the temperatures are conducive and not too hot. High temperatures, exhaustion, sun exposure, poor preparation can lead to negative consequences.
When enjoying the hiking trails in UAE, it is advisable to have a map and plan your route carefully. Tell someone about your trip and don't rely on your phone signal. This helps in case you get lost so people can organize search parties to find you.
Eat a healthy meal before leaving and drink enough fluids, preferably water, to stay hydrated. If your trip will take 3-5 hours, pack salted snacks, fruits, and water for sustenance. Carry more food if you need to go longer.
All hiking trails in UAE require you to dress appropriately for the activity. Sunglasses, comfortable clothes, and thick-soled sneakers are suitable for this terrain. Also, consider the weather before taking your trip.
The Best Hiking Trails in the UAE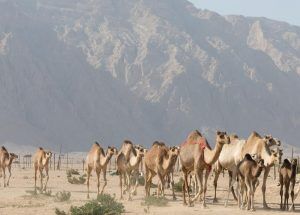 Although UAE is known for its majestic building and landmarks, it also boasts of stunning hiking trails that have become tourist attractions throughout the years. The following hiking trails in the UAE are guaranteed to give you a memorable experience.
Jebel Qihwi
This is one of the most beautiful peaks in the Hajar Mountains and stands at 1792m. Although you'll pass through the border into Oman, the scenic views and the picturesque topography are worth the drive. Although you won't be technically climbing, you need to be fit. Your hike will start at a path, but you require your hands for support when you get closer to the top as the path becomes rocky. The last 20 meters are difficult, so you need climbing equipment.
Secret Staircase
This is an easy to moderate climb, and you can access it by road from Dubai, but you need to carry your passports to cross the Oman border. This is a quick hiking trail in UAE and takes about 3-hours when you access the hand-built secret staircases. Although this is a lesser-known hiking trail, it has awesome views. Before you leave your hotel in UAE, you ought to understand that this is a 3 hour trek. The trail will lead you to Twaifat and Yehnadji villages which are famous for their Petroglyphs and ancient gravestones.
Wadi Tayyibah
If you would love a simple trail that will not have your muscles aching the next day, then Wadi Tayyibah is the best choice. This is an old East Coast road which lies 20kn north of Masafi. You can either use the old road, which is still used by date farmers and villagers or us the new roads. There is no reason to spend the day at your hotel in UAE, when you can venture out and experience natural pools, conventional irrigation systems, the old village of Tayyibah, and the town's museum.
The Shawka Dam Loop
This is a 10km loop located in the Shawka Dam in Fujairah, and this takes about 2 hours from Dubai. This is among the best hiking trails in UAE as the route is used by bikers and hikers, which means that the gravel roads are in good condition. You will get the best view of the desert as well as agriculture, and if you are lucky, you might see donkeys, camels, goats, and a variety of birds.
Wadi Lasal
If you are looking for simple but fun hiking trails in UAE, Wadi Lasal should be on top of your list. Located in Sharjah this trail is circular and is approximately 6.2 miles (10km). Whether you are a trekker or a mountain biker, this trail is perfect for you. The journey is not only exciting, but it only takes 3 hours, which includes stops on flat terrains. This makes it one of the best hiking trails for beginners.
Jebel Hafeet
If you are an experienced hiker, Jebel Hafeet will pose an exciting challenge for you. This is one of the quickest hiking trails in UAE to reach because it only takes 2 hours from Dubai. Jebel Hafeet Mountain is the 3rd highest in the UAE with a peak of 1240km. Remember to consider your fitness level before attempting this hike. The road is steep, the terrain is vast, and you are advised to carry plenty of water, trekking boots, and poles. Because of its steepness, the hike is more enjoyable at sunrise or sunset rather than during midday.
Hatta
Hatta is a short drive from Dubai; this natural beauty is the perfect getaway from the congested and noisy city. This is not only one of the most magnificent hiking trails in UAE, but it has beautiful dams, cool blue waters suitable for paddleboarding and kayaking and over 50km of peaceful hiking trails. You can also opt to ride a bike, which you can rent on site.
The UAE is made up of more than just building, waterparks, and monuments. Many beautiful hiking trails are waiting for you to explore. The region is home to natural landscapes, valleys, desert dunes, and friendly locals. Remember to carry water and appropriate hiking gear.