Jannah Hotels & Resorts was founded in the spirit of the noble Bedouin hospitality. Today, we are a leading name among hotel groups that specialize in the affordable luxury Halal segment. With innovative infrastructure, creativity and dynamism, Jannah Hotels & Resorts has blossomed into the hotel management company of choice for visitors and residents of the UAE.
Properties our portfolio include:
Jannah Burj Al Sarab Hotel – Abu Dhabi with 224 rooms and 94 suites
Jannah Marina Hotel Apartments – Dubai Marina with 115 hotel apartments
Jannah Place Dubai Marina – Dubai Marina with 133 hotel apartments
Jannah Hotel Apartments and Villas – Ras Al Khaimah with 100 hotel apartments and 24 villas
Edge Creekside Hotel – Dubai Creek with 106 rooms and 32 suites
Upcoming properties include:
Jannah Ras Al Khor – Sharjah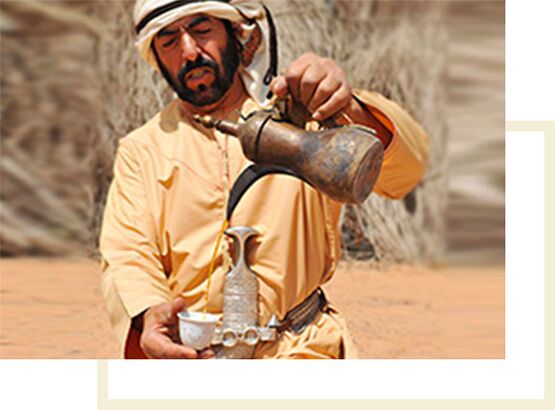 Jannah Hotels & Resorts
ETHOS
At Jannah Hotels & Resorts our purpose is to engage, enrich and evolve for the benefits of our colleagues, guests, communities and stakeholders.
By embracing our four values (H.A.L.A.) we celebrate serving you in the spirit of the Bedouin hospitality.
'You' are at the heart of our journey. This is our way – The Jannah Way.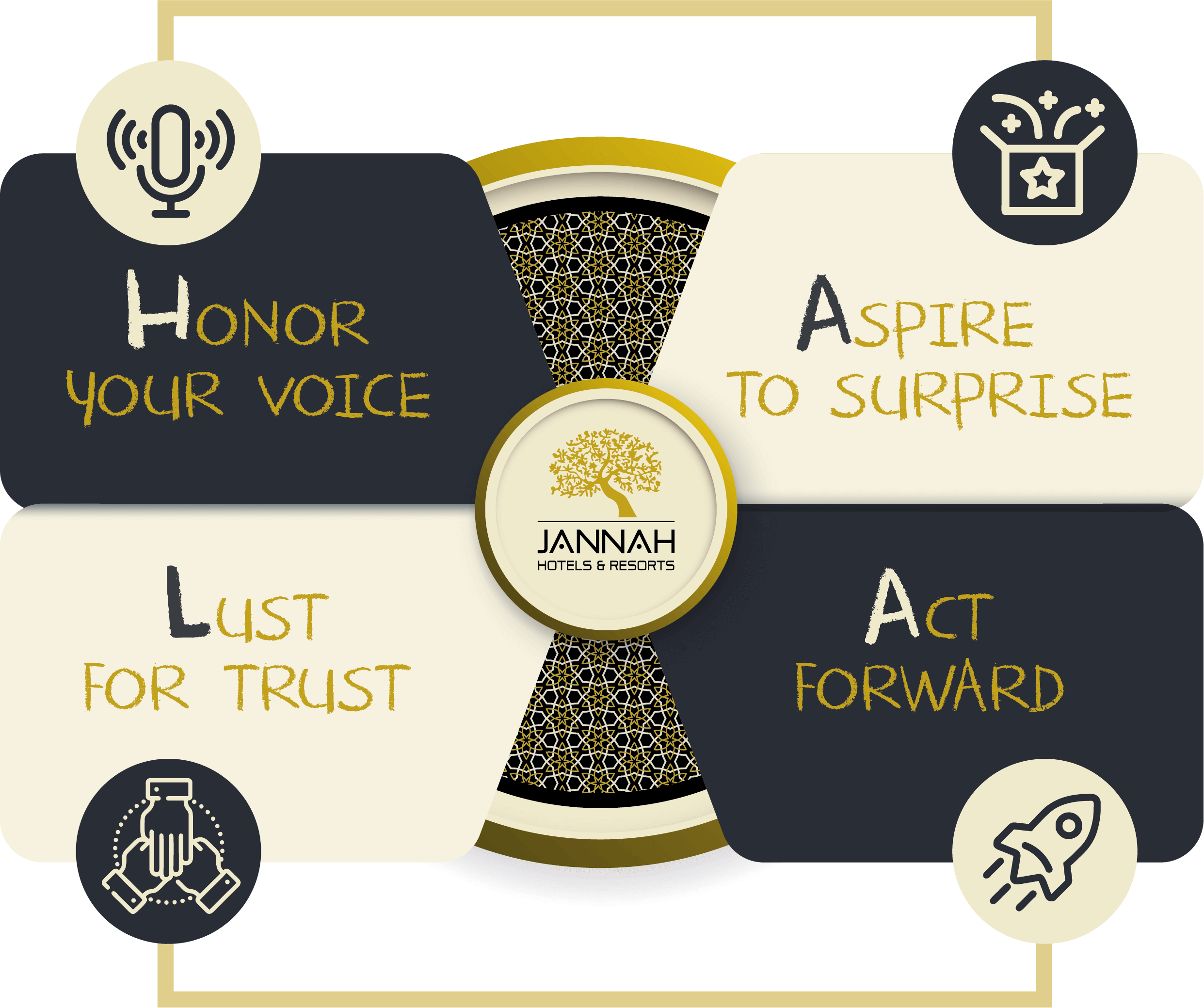 Our Values are our essential and enduring pillars that capture the essence of our spirit: HALA (i.e. The Bedouin genuine spirit of hospitality). They represent our set of timeless guiding principles that guide our choices, actions, decisions, and behavior. They enable us to live our purpose and cultivate the Bedouin hospitality.
Honor Your Voice
At Jannah Hotels & Resorts, every SAFIR has a "say" in their job – We are all involved in the designing, planning, and execution of our work. We value every perspective, and talents from different generations and leverage how we can learn from one another. At Jannah Hotels and Resorts, our differences are the source of our richness and innovation. We join hands to 'rave' our individuality, diversity, and differences at every turn.
Aspire To Surprise
At Jannah Hotels & Resorts, we believe that our guests crave experiential experiences. We focus on designing and crafting unique, engaging, memorable, personal, and emotional moments. At Jannah Hotels and Resorts, we all can "wow" our guests each and every day and in the process create advocates of our brand. We are therefore invited anticipate the change, be the change, and go beyond and beyond to design the unexpected.
Lust for Trust
At Jannah Hotels & Resorts, we believe in you! Period. We are all encouraged to make decisions that enliven our purpose and bring our service philosophy to life. Trust is the glue that holds our culture together. At Jannah Hotels & Resorts, we depend on you and believe in you. We show loyalty to one another, promote a team spirit, and work together as ONE team to make things happen, whatever happens.
Act Forward
Jannah Hotels & Resorts, we continuously seek opportunities to learn, rethink, and redefine the packaging of our products, services, and experiences. We seek opportunities to explore, experiment and enhance everything we touch. At Jannah Hotels & Resorts, we constantly reimagine our business, unceasingly evolve, and push our limits with our passion, imagination, and persistence. And in this process, we give back to our community, and the world we serve.
Best Rates Guaranteed. Book online and look forward to a relaxing stay with us
We strive to provide an elevated travel experience and unparalleled level of service
BOOK NOW
The Story Behind The Name
The Birth of Jannah Hotels & Resorts' Logo
'Jannah' is Arabic for 'paradise' or short for 'garden', and is the perfect word to describe the essence of our vision for a brand that captures the luxury, serenity, and safety of a garden.
The Jannah Hotels & Resorts logo manifests this vision with an olive tree.

Jannah Hotels & Resorts offers the best of luxury and business accommodation with a distinct Emirati flair. With exceptional service across all properties we pay homage to the warmth and devotion of Bedouin hospitality, offering guests convenience and comfort in elegantly styled interiors with state-of-the-art amenities in some of the best locations in the UAE.
With multiple destinations and a variety of offerings Jannah Hotels & Resorts has blossomed into the Halal hotel brand of choice.